Guest Artists: Tony Glausi and Siri Vik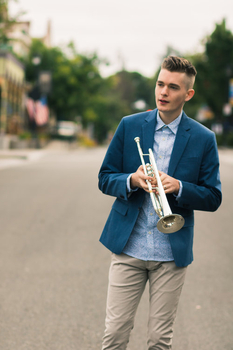 Hailed as "a great writer and a terrific trumpet player" by legendary songwriter Burt Bacharach, and said by renowned jazz artist Dave Douglas to be "one of the finest young trumpeters", Tony Glausi has established his voice in the music industry as an international award-winning trumpeter, keyboardist, composer, arranger, and producer.
Siri Vik is recognized within the Northwest music scene as a singer of versatility, power, and emotion. Since winning Grand Prize at the International Lotte Lenya Competition 15 years ago when still singing opera, Siri found a niche interpreting songs ranging from classical to pop to jazz to musical theater—-songs with history, edge, theater, and a healthy dose of human suffering. For several years Siri has created and premiered cabaret evenings at Eugene's John G. Shedd Institute for the Arts, and has since performed concerts devoted to this eclectic repertoire throughout Oregon and the Northwest region, most often reprising her two shows rooted in old-world cabaret: Moon Shines Red: Weill & Brecht, and La Môme Edith Piaf.